AWARD WINNING REPAIR CENTRE
GARRETTS BODYWORKS IS A STATE OF THE ART, 30,000 SQ.FT. VEHICLE REPAIR CENTRE IN ESSEX
When a vehicle goes in for body repairs, you need to feel confident that the repair is carried out to the highest standards, so that the vehicle not only protects the lives of those on the road, but maintains the pre-crash integrity of the vehicle.
This is where our team of specialists can help as we carry out a wide variety of cosmetic and structural repairs to the highest possible standard for a competitive price.
TRUSTED, FAMILY OWNED AND RUN BODYWORK COMPANY
WE OFFER A WIDE RANGE OF CAR & VAN CRASH REPAIR SERVICES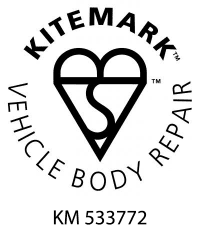 COMMITTED TO QUALITY & SAFETY
THAT'S WHY WE HAVE THE KITEMARK®
When a vehicle goes to a bodyshop that has the Kitemark for vehicle body repair, you can feel reassured that whatever the type of repair is needed, whether it be cosmetic, a structural repair or involves aluminium and composite bonding, the quality will be as good as it was before the accident happened.
So put your mind at rest, look for the Kitemark®!
WE ENDEAVOUR TO RECYCLE 90%
OF OUR WASTE PRODUCT
We recycle 90% of our waste product including plastic, cardboard, paper, metal and tyres to help keep the planet green and reduce our carbon footprint. As a team we are always looking for new ways to offer a greener service.
SPEAK TO OUR HIGHLY QUALIFIED TEAM ABOUT BOOKING
STRESS-FREE CAR REPAIR SERVICES IN ESSEX
We are committed to providing a seamless, first-class service that gets your vehicle back to how it was before it was damaged.